Christchurch resident Mandy Rooney was trapped in her car within metres of a mosque in Bishopdale.
She said she tried to get out of the car to see what was going on but was ordered back into her vehicle by armed police.
"They have their guns up and are walking around scoping through them," she said.
"It is chaos. People have been trying to drive away and are just crashing into other vehicles."
A witness told the Herald he had seen a body in a carpark at Papanui High School.
Papanui High School, which is north of where both incidents occurred, is in lockdown.
The receptionist said staff were hiding under their desks, and she could not comment on any activity nearby.
A man wearing military clothing has been arrested outside Papanui High School.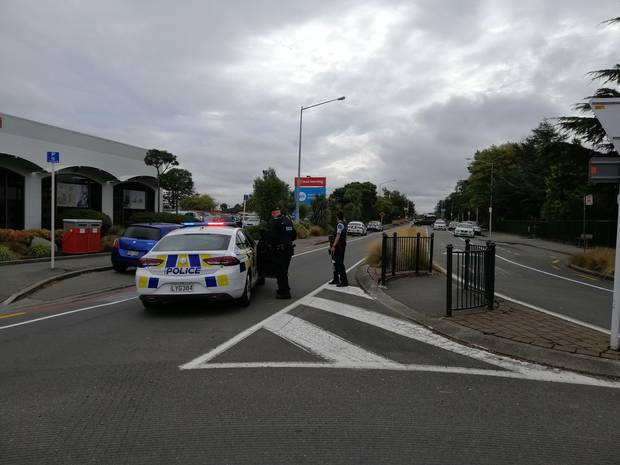 There is a large police presence at the hospital with many armed officers.
The New Zealand National Front has said it the events in Christchurch do not involve the organisation, nor its members.
"The National Front does not condone or agree with this type of wanton murder of innocent people regardless of their religious beliefs.
"We believe in freedom of speech and freedom to worship whatever god you chose."
The University of Canterbury is in lock down. They say people are to stay inside until police give clearance.
Two Christchurch shopping malls are also in lockdown.
Shoppers and retail assistants at Westfield Riccarton and Northlands Mall are being told no one is allowed to leave.
The city centre is like a ghost town as police hunt the shooters.
Heavily armed police, including special units, are speeding around the empty streets with lights and sirens wailing.
Christchurch Mayor Lianne Dalziel said her message to people is to stay away from the central city.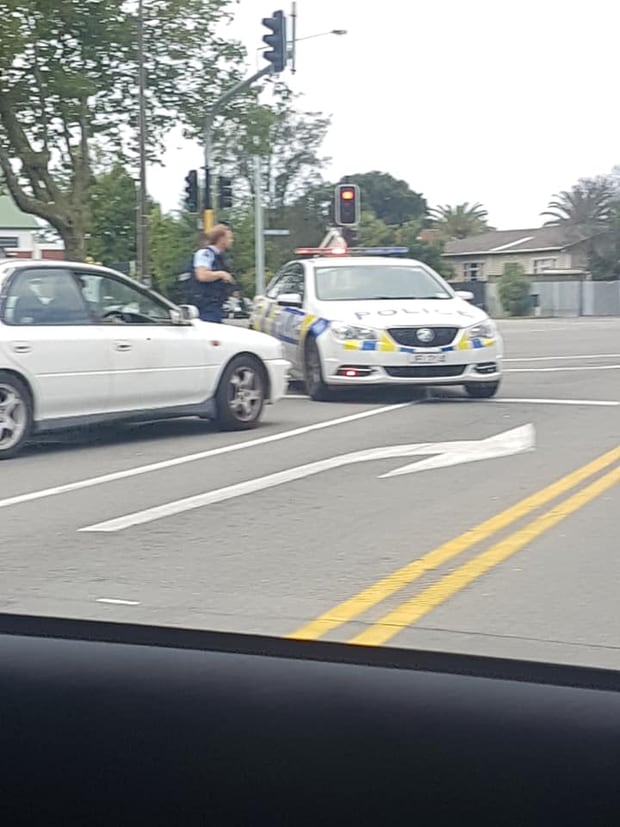 "If you are in the city please stay in the building you are in," she said.
"All Council buildings are in lock down and they're urging all central city building owners to do the same, until advised by the Police they can leave."
'I heard at least 20 [gunshots]'
Benjamin Jellie said he ran outside when he heard gunshots.
"I saw people jumping over the back fence of the mosque into Oakward Close. I heard at least 20 [gunshots]."
"I heard about eight at the start and then it went quiet for about 30 seconds or a minute and then it started again. I heard about eight more and then there was another minute and another eight," Jellie said.
"Those coming over the fence, all adults and including at least three men, were screaming and crying."
He believed the injured were all conscious.
The injured were very quiet, Jellie said.
The Bangladesh cricket team was at the mosque for Friday prayer when the shooting started.
A taxi driver in Deans Ave told Newstalk ZB that a jogger in the park said shots had been fired inside the mosque.
"Police and ambulance are coming from every direction".
The public should not attend Christchurch Hospital unless it's an emergency, a Canterbury DHB spokeswoman said.
"All appointments have been cancelled this afternoon, and no staff or patients are to enter or leave the building."
Air New Zealand is offering flexibility to customers booked to fly to or from Christchurch today, in the wake of the shooting.
The airline will waive any fare change fees, should people need to make alternative travel arrangements.
Air New Zealand is also offering its support to Emergency Services managing the incident in Christchurch.
The events of today in Christchurch are distressing.
If you or someone you know needs mental wellbeing support or advice then call or text 1737 anytime day or night to talk to a trained counsellor.